How to Create a New Wishlist
Creating a new Wishlist is so easy and a great way to keep track of products you would like to refer back to, save for another day or even share with family and friends!
You can add as many as 50 products to each of your wish lists.
There are two easy ways to create a Wishlist.
1 - Create a Wishlist from the homepage
Sign into your account
Under your name you will see a list of possible actions - Wishlists has the 'heart' icon next to it
Click on 'Wishlists'
Click on the black button that says 'Create New'
Type in a name for your Wishlist for example, your name, family or friends names, or general subjects like "Immunity Support'
Click the 'Create' button and that's it!. You can create as many Wishlists as you like!
2 - Create a Wishlist from a product page
Click on the product you wish to save
Click on the Wishlist button which is under the blue 'Add to cart' button
Select an existing Wishlist, or 'Create New Wishlist' if you want to add another Wishlist to your account. Please see the example below: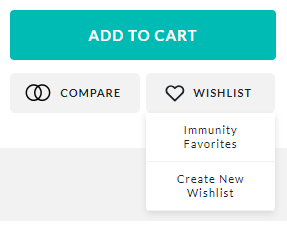 And that's it - your chosen product is now in your new or chosen Wishlist!
Have another question? Get in touch.
---
---